We will exhibit at the IT & MARKETING EXPO 2021 Spring.
We are pleased to announce that we will be exhibiting at IT & MARKETING EXPO 2021 Spring, organized by STARATS Inc.
IT & MARKETING EXPO 2021 Spring is one of Japan's largest online exhibitions of the latest IT services and solutions, and was very popular last time with thousands of visitors.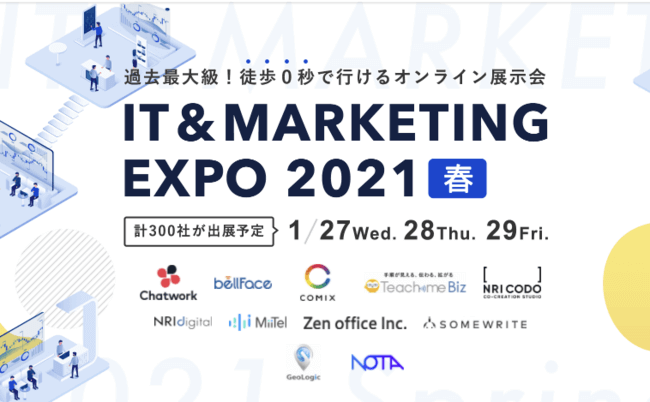 We will be exhibiting our human resource development DX service, "Sakutto! Learning". We are also holding a special campaign, so please take advantage of this opportunity.
In addition, there will be a variety of special events, including lectures and seminars by leading experts in the field.
I believe that this unprecedented situation will give you a chance to find your next opportunity. We hope that you will be able to attend these seminars as well and stop by the YEAAH booth afterward.
[Outline of the event]
Name: IT & MARKETING EXPO 2021 Spring
Organized by: STARATS Inc.
Date & Time: Wednesday, January 27 – Friday, January 29, 10:00 – 19:00 JST
Venue: Online venue →details
You can browse the online booth by searching for "YEAAH".
Cost: Free
To browse the online booth, you need to register for an account (visit entry) is required.
Expected number of visitors: 8,000
[About IT & MARKETING EXPO 2021 Spring]
More than 300 companies will be exhibiting and speaking at this year's event, and 8,000 people are expected to attend.
In this unprecedented situation, every company is searching in the dark for sales, organization, and service changes. We will provide tips and trends to solve various issues.
This is an online event, but there is a limit to the number of participants, so we recommend entering early.
Please come to the YEAAH booth at the online venue!